DJANE ANASTAZJA – UK / Poland - Enterrec Music
Djane Anastazja plays groovy & Night Fullon Psy-Trance ranging between 146 & 149bpm. Her connection into electronic music started in 2009 & in 2011 she moved to the United Kingdom. By 2014 she found herself listening to something that had never crossed her path before. It captivated her heart & soul with uplifting vibes & the new found connection that was to begin her way of life, an amazing & epic journey.
From then onwards "PSY-TRANCE" was her new love. In that very same year she began to master the art of CDJ Turntables. For some years just enjoying the fulfilment of mastering the art & craft of Djing, by 2018 Djane Anastazja became a resident for "CRYSTAL KIDS".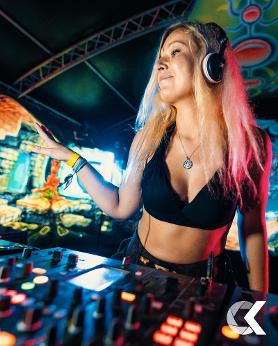 Since then she has performed at many events in the UK. In 2020 she proudly joined UK Psy-Trance record label:- "ENTERREC". During the late summer of 2020 & 2021 she was fortunately able to travel & perform at "PSY ISLAND FESTIVAL" in The Czech Republic. Performing all the way to the end of 2021 at many events in the U.K. featuring top names such as Avalon & Mandala. In 2022 she will join the line up on stages with the likes of Neelix, Ace Ventura & Talamasca.

Djane Anastazja has already begun her journey into music production. In collaboration with Enterrec label manager "Champa" & another project with her Psychedelic Soul Sister "China Rose". Look out for next year for something special indeed! In the summer of 2021 she compiled her very first V/A (Various Artist) album on ENTERREC - "Groovadelic Vol.1". It reached No.1 for 7 days In the Beatport Psy-Trance Charts & stayed in the top 10 for 4 weeks. An unstoppable incredible talent indeed